Handmade Rosaries for Sale
Handmade Rosaries
At Heirloom Rosaries, we are committed to making by hand the finest, most beautiful rosaries and chaplets in the world. People always say that we have the most beautiful rosaries on the web.
Only top quality gemstones and the finest glass beads are used. We use nothing less than heavy-gauge, hardened sterling silver or 14K gold wire, and we use heavy-gauge wire wrap to join the center and crucifix of the rosary or chaplet to ensure that your rosary will last through many lifetimes.
Every rosary, every chaplet, is guaranteed -- to please and to last.
Shop Now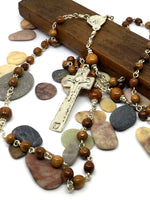 A Rosary for the Pope
Imagine my surprise and delight when I got a call from the US Government asking me to make the gift the United States Government would present to the newly elected Pope Francis! Although I won't make the exact rosary I made for him, I am making replicas.
Testimonials
Today I received my rosary and wanted to tell you how beautiful it is!!! You have a talented gift from above. Your prayers while making it were much appreciated. I am glad to have it in time for Lent, and will say prayers for you and your family. Thank you again for this treasure .

Jane Wilcox
Dear Pam, I received the Rosary beads. They are in a word magnificent. They are even more beautiful than I had hoped for. You are truly blessed in your gift of craftsmanship. Thank you, I will treasure them.

Chris
We just received the rosary yesterday and it is stunning in person. We are so thrilled with the job you have done and cannot wait to give it to her at her Baptism. Thank you so much for your beautiful work and kind heart.

Anonymous